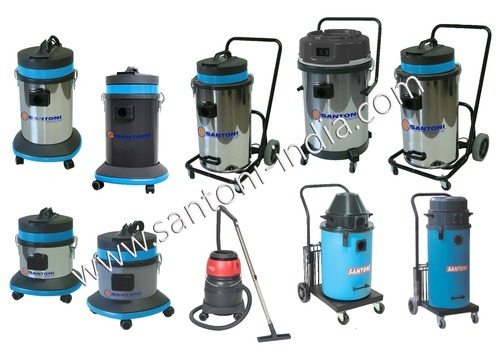 Wet & Dry Vacuum Cleaners
Product Description
We were conceptualized way back in 1980 to manufacture and export our clients an exceptional quality range of Wet & Dry Vacuum Cleaners. Enabled with stainless steel tank and shock proof plastic body, these cleaners are ideal for use in large areas like shops, hotels, offices, malls and hospitals. These Wet & Dry Vacuum Cleaners are made by a team of skilled professionals, following the norms and guidelines laid down by the industry. In addition, we can customize these cleaners as per the needs of the clients.
Key Features:

Easy to operate and handle

Light weight and shock-proof
Impeccable quality and industry leading prices

Silent operation and excellent performance
Dry Vacuum Cleaners

The extensive range of Professional Dry Vacuum Cleaners of SANTONI includes back mounted/back pack type and wheeled type variants. The offered equipments are attached to Amtek vacuum motor of 800 hours rating. These meticulously designed machinery are appreciated for their application specific design and high productivity by professionals engaged in different industries.

Wet & Dry Vacuum Cleaners

SANTONI is offering comprehensive range of Wet n Dry Vacuum Cleaners that cover both dry and wet pick up types design options. These types of vacuum cleaners are perfect for vacuum motors of well known brands like USA, LAMB ELECTRIC DIVISION and AMETEK. Customers can obtain these vacuums in different sizes and in other configurations. We are also offering these with options of painted steel or plastic or stainless steel fabricated tanks in trolley mounted design or with wheel facility.

Further Details: Our range of Wet & Dry Vacuum Cleaners:-
UberVAC Wet-P/M 25
Wet & Dry Vacuum Cleaner
Professional Cleaning Use in offices, homes, shops, malls, etc.
Capacity: 25 Ltrs.
Plastic or Stainless Steel Tanks – built to last
2 Stage By Pass Vacuum Motor
Power Consumption: 1400 W
UberVAC Wet-P/M 40
Wet & Dry Vacuum Cleaner
Professional Use in medium sized offices, shops, hotels, malls, hospitals etc.
Tank Capacity: 40 Ltrs.
Plastic or Stainless Steel Tanks – built to last
2 Stage By Pass Vacuum Motor
Power Consumption: 1400 W
UberVAC WD-MT 50
Trolley mounted Wet & Dry Vacuum Cleaner For professional use in large areas like hotels, malls, hospitals, multiplexes etc.
Tank Capacity: 50 Litres – with tilting feature
Steel Tank metal trolley mounted
2 Stage By Pass Vacuum Motor
Power Consumption: 1400 W
UberVAC WD-M/ MT 80
Two/Three Motor Wet &Dry vacuum cleaners - professional/industrial use
Large tank capacity: 80 Litres
Available in varied versions:
2 Motors |Wheel Mounted | Plastic Tank | Without Tilt feature
2 Motors | Wheel Mounted | Plastic Tank | With Tilt feature
3 Motors | Wheel Mounted | Plastic Tank | Without Tilt feature
3 Motors | Wheel Mounted | Plastic Tank | With Tilt feature
Cleanfix SW 21 Combi
Made in Switzerland – Ultra Premium wet & dry vacuum cleaner
Unique design – engineered for high usage
SS telescopic extension wand – with auto lock feature
Quick hose lock with high strength design
Capacity of tank: 25 Litres
Santoni Wetpik-1000 B
India's First Indigenously developed Wet & Dry Vacuum Cleaner
High Strength MS Trolley mounted
Hose fittings - Nylon - high durability
Standard 45 Litres Plastic Tank | Tank life -Guaranteed Unbreakable for 10 Years
Trolley Mounted tank | Tilt-back feature
Optional: SS/MS Tanks – 60/80/100 Litres
Unique: With Blowing Facility
2 Stage Bypass 1 x 1200 W Motor
Santoni Wetpik-2000B
India's First Indigenously developed Wet & Dry Vacuum Cleaner
High Strength MS Trolley mounted
Hose fittings - Nylon - high durability
Standard 45 Litres Plastic Tank | Tank life - Guaranteed Unbreakable for 10 Years
Trolley Mounted tank | Tilt-back feature
Optional: SS/MS Tanks – 60/80/100 Litres
Unique: With Blowing Facility
2 Stage Bypass 2 x 1200 W Motor