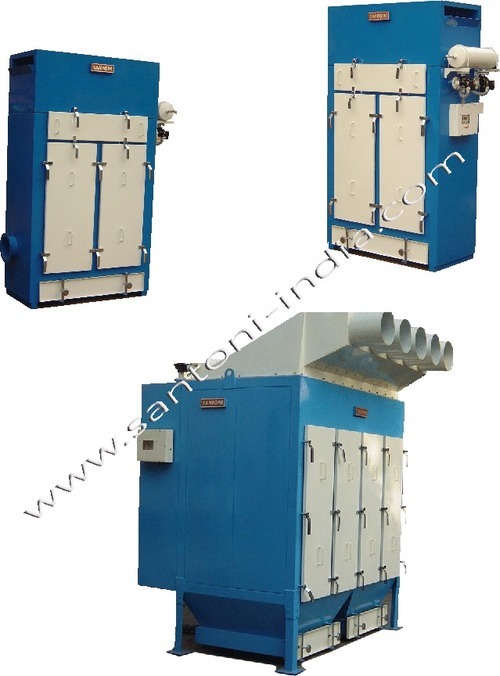 Micro Dust Collector
Product Description
In three decades of time, we have emerged as a renowned manufacturer of Micro Dust Collector. These collectors are used in various industries including jewellery, Precision Components Manufacturing, pharmaceutical, paint, rubber and chemical for removing dust and toxic materials. Our Micro Dust Collector is designed and manufactured by our professionals as per the set industry norms using supreme grade materials. Be it in domestic market or international, our offered chemicals are cherished and acknowledged over the global platform.
Features:
Less maintenance

Ruggedness
Optimum performance and best quality

Applications:

Jewellery Industry
Paints Industry
Rubber Industry
Chemical Industries
Precision Components & Machinery Manufacturing Industry
Pharmaceutical Industry
Specifications:

Motor
SCF-N-V-2-1H
SCF-N-V-2-2H
SCF-N-V-2-3H
Power (KW)
0.75
1.5
2.2
Motor
1 HP, 3 Phase, 2880 RPM
2 HP, 3 Phase, 2880 RPM
3 HP, 3 Phase, 2880 RPM
Filter Type
Pleated Media Cartridges
Filter Media
Nordic, Denmark - Polyester , Spun-bound, Washable
No. Of Filters
2
2
2
Filter Area (sq. m.)
7
14
20
Filteration Efficiency
83% at 0.3 Micron, 99.99% at >1 Micron
Filter Cleaning
Automatic, Pulse Jet
Automatic, Pulse Jet
Automatic, Pulse Jet
No. of Pulse Valves
2
2
2
Pulsing Control
Microprocessor Based Sequence Controller
Airflow (m3/hr)
650
1300
2000
Dimensions (LxBxH)
1200 x 600 x 1250
1200 x 600 x 1550
1200 x 600 x 1850
Noise Level
<75 db(A)
<75 db(A)
<75 db(A)
Duty Level
Continuous
Continuous
Continuous
Further Details:
Collect dust from several points Simultaneously!
Centralized dust collectors!
Cartridge filter dust collector system.
Pulse jet bag filter dust collection system. Wet dust collection system
Why dust collectors?

Remove dust and protect the environment
Recover materials
Reduce down time of equipment
Improve production quality
Increase worker productivity
Reduce production costs
Improve working conditions
Why SANTONI dust collectors?

High efficiency and collection performance
Low fixed & running costs
Less power consumptions
Better energy savings
Removes wide range of sizes and variety of dust
Outdoors placing therefore less space requirements
No filter clogging
Low-pressure drops
Special dust disposal facilities
Low noise options available
Cyclone pre filter provided
High suction maintained for long hours
Longer life span
Reduced handling costs
Save a lot and increase profitability!