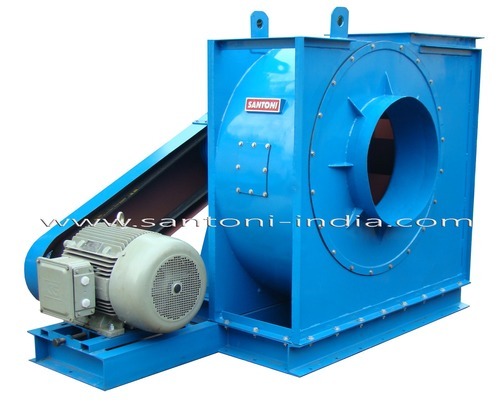 Industrial Blowers
Product Description
Riding on industrial experience of three decades, we are a renowned manufacturer and exporter of Industrial Blowers. Widely used for dust collection, fume extraction, material conveying and ventilation purpose, these blowers find application in various industries including food processing, chemical and pharmaceutical. We manufacture these Industrial Blowers by using quality materials including mild steel, CI, aluminum, ss-304 and ss-316 at our state of the art machining facility.
Key Features:

Easy installation and operation
Less maintenance required and best quality
Corrosion resistance and optimum performance
Application Areas:
Dust Collection systems
Fume Extraction Systems
Industrial cooling and ventilation
Burners - boilers and furnaces
Industrial Ovens
Central Vacuum Cleaning
Pneumatic Conveying
Product Drying
Aeration
Gas scrubbers

Further Details:

SANTONI, since its incorporation in 1983 has been offering unmatched and world-class equipment in the domain of industrial cleaning and air pollution control. These products are reckoned not only in Indian industry but also in other countries for their superior cleaning capacity.
Fans are a fundamental part of such equipment.
SANTONI customer guarantees its customers the products which surpasses the best of the industry in terms of performance and quality. This is because unlike the other manufacturers in India, fans are designed at SANTONI as per the latest technology and these are not merely copied from the prevailing ones.
It is important for the organization that the features of the fan match the global application parameters- otherwise there will be a contradiction- the fan has the required power but still it fails to perform with respect to a particular application. This happens because it does not have enough pressure or suction although it has too high a flow, or it lacks flow behind the required level. In the organization, the fans are manufactured to match the parameters of a particular application and are not treated in isolation.
Customers can avail a vast range of fans and blowers including twin-lobe blowers, single stage centrifugal blowers, turbine blowers, multi-stage centrifugal blowers, and axial flow fans - in an array of materials - Stainless steel, mild steel, FRP coated, etc.
For targeting the application parameters, the blowers are designed using dedicated software and cam.
Blower designs comprise backward curved, backward inclined, radial, radial tipped and air handling, forward curved blades, material handling and long shavings.
Impellers are made-up employing precision techniques and are both dynamically and statically balanced.
Single and Multi-stage blowers are manufactured.
DIDW type blowers are also fabricated for high volume blowers.
Kinds of Material of Construction
CI, Mild steel, Aluminum, FRP coated, SS-304, SS-316, and many more.